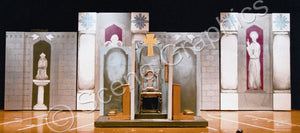 To create the Catholic school for this Design Pak©, a series of boxes (walled with doors) move, rotate, and have opening panels for quick, seamless set changes.
Some of the details included in this Pak© are plans for:
Vintage School Desk Seats
A Fence & Porch Steps (scenes 2-4)
Holy Virgin Statue
Confessional Booth
Floor Plots for each scene
and more!
This set has also been utilized, with modification, for the musical "Sister Act"!
Design by Paul Kimpel.
All Design Paks© are leased and include: 

The technical blueprints & how-to instructions for building

Colored renderings of the set pieces

The ScenoGraphics Building Manual (covering building and material basics)

A materials list 

 
A return label emailed to you
Design Paks© are due back two weeks after a show's closing. Return shipping is included and you will receive an email with a return label when your order is fulfilled.