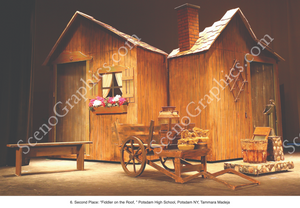 In our "Fiddler on the Roof" Design Pak©, some of the pieces and plans included are:
Revolving rustic units for Tevye's house, the tailor shop, & the inn: 

The plans for Tevye's house cover both the interior and exterior (these plans are brimming with details like a stone fireplace and gutter system)
Two inn units: both showing interior; one doubling as the exterior

Chagall-style Village cutouts are dead-hung
Ground row hinged rural scenes 
Tevye's Cart (with plywood pattern!)
Details like a water pump, rustic railway signal, basic beds, a bench, a bar for the inn, and the wedding canopy 
and more!
Design by Andy Spanoudakis.
Please note: Photos from schools may contain some discrepancies from the blueprints provided since the lessee can make changes to customize their built sets. However, we believe that the photos chosen are fair representations of our product.
All Design Paks© are leased and include: 

The technical blueprints & how-to instructions for building

Colored renderings of the set pieces

The ScenoGraphics Building Manual (covering building and material basics)

A materials list

 

 
A return label emailed to you
Design Paks© are due back two weeks after a show's closing. Return shipping is included and you will receive an email with a return label when your order is fulfilled.