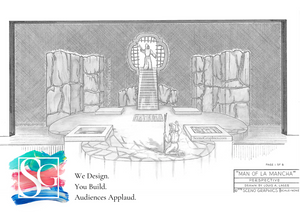 The "Man of La Mancha" Design Pak© has a raked stage with faux stone walls that provide atmosphere for this show. It includes dance horses and a drawbridge staircase.

Some of the pieces and plans included are:
Raisable Drawbridge Staircase
Trapdoor
Supporting Truss Structure for Rake Stage
"Stone" Masking Units
Entrance and Grille at top of Drawbridge
Fight ladder
Portable Writing Desk
Cover for Well
Bed Headboard
Arch Gate for the Inn
Confessional Grate & Kneeling Board
Trunk
Rigs for Dance Horses
and more!
All Design Paks© are leased and include: 

The technical blueprints & how-to instructions for building

Colored renderings of the set pieces

The ScenoGraphics Building Manual (covering building and material basics)

A materials list

 

 
A return label emailed to you
Design Paks© are due back two weeks after a show's closing. Return shipping is included and you will receive an email with a return label when your order is fulfilled.